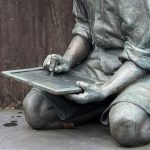 In the course of history, sculptors have played a key role in representing, immortalising and honouring those who have helped shape the national, sporting, religious or cultural identity of a country.  In Australia, one of the most popular and prolific creators of public sculpture is Melbourne-based Louis Laumen.  Professional artist since 1995, Laumen has received over fifty commissions for bronze statues of sporting or war-time heroes and popular public figures, as well as a large number of religious works.
Born in the Netherlands in 1958, Laumen arrived in Australia with his family in 1960.  After studies in Fine Art (Sculpture) at the Victorian College of the Arts, he completed a Bachelor of Fine Arts in 1982 and Graduate Diploma in Fine Art (with Distinction) in 1984.  In the next decade, Laumen was sculpture instructor at the National Gallery Society Sculpture School, lecturer in sculpture at the Royal Melbourne Institute of Technology and a technician at Meridian Sculpture Founders in Melbourne.
SELECTED COMMISSIONS
♦  1988-1990:  Portrait medallions of Dr Joseph Brown, Dame Elizabeth Murdoch, and others (National Gallery of Victoria)
♦  1996:  'Weary' Dunlop Memorial, Benalla, Victoria
♦  1998:  Widow and Children sculpture, Legacy Garden, Shrine of Remembrance, Melbourne
♦  1999:  Peter the Fisherman, St Peter's Church, Toorak, Victoria
♦  2000:  St Francis of Assisi and St Catherine of Siena, St Patrick's Cathedral, Melbourne
♦  2002-2011:  Parade of Champions, sports stars at Melbourne Cricket Ground Hall of Fame – Sir Donald Bradman, Betty Cuthbert (below left), Ron Barassi (below centre), Keith Millar, Dick Reynolds, Shirley Strickland, Hayden Bunton, Leigh Matthews, Bill Ponsford, Dennis Lillie, Shane Warne (below right)
(These figures were first commissioned prior to the 2006 Melbourne Commonwealth Games.  The Victorian Sports Minister, Justin Madden, commented that the million-dollar project would symbolise what sport meant to Australians.)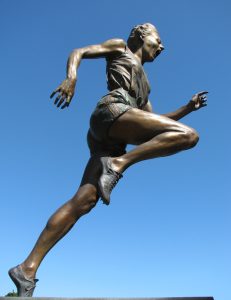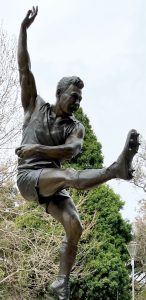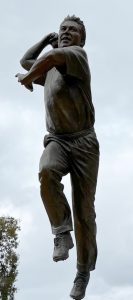 ♦  2002:  St Peter the Apostle, Mission Church, Hoppers Crossing, Victoria
♦  2002:  St Francis Xavier, Xavier College, Kew
♦  2005:  Blessed Mary MacKillop, Penola College, VIC
♦  2006:  St Thomas More, Speaker's Garden, Parliament House of NSW, Sydney
♦  2008: Crucifix, Seminary of the Good Shepherd, Homebush, NSW; since 2011 at Domus Australia, Rome
♦  2010:  St Mary of the Cross, St Mary's Cathedral, Sydney, NSW
♦  2010:  Elijah the Prophet, Whitefriars College, Donvale, Victoria
♦  2013:  St Mary of the Cross, Australian Catholic University, St Patrick's Campus, Fitzroy
♦  2017:  Boer War Memorial (four equestrian figures), Canberra, ACT
As can be seen from this list, Laumen was commissioned by various Catholic communities around Melbourne and interstate to provide sculptures of patron saints for parishes and schools and mentor figures who have also become religious icons in Australia's multi-cultural Christian and Catholic community.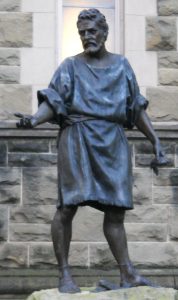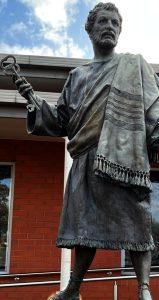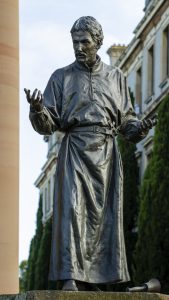 From left: St Peter Fisherman (1999), St Peter Apostle (2002), St Francis Xavier (2002)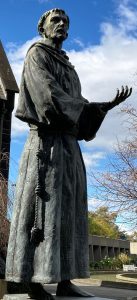 Two features that stand out in Laumen's work is the ease with which the figure represented can be identified – a key to a successful sculpture – and sensitivity to the context of placing the sculpture in particular settings.  For example, the statues of St Francis of Assisi (left) and St Catherine of Siena (right) in the grounds of St Patrick's Cathedral honour two popular Italian saints and, by association, the significant Italian Catholic community in Melbourne that migrated to Australia after the Second World War.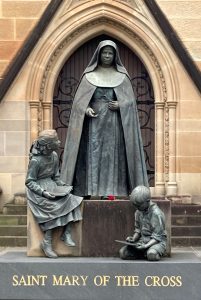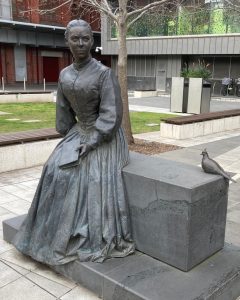 The two images shown above of Australia's saint Mary MacKillop (Mary of the Cross) provide an interesting comparison.  Both highlight the importance of context.
The 2010 statue of St Mary of the Cross outside the north transept entrance to St Mary's Cathedral in Sydney (left) depicts Mary in connection with two children.  Rather than representing the saint in abstract isolation, the viewer is immediately introduced to Mary as a person who identified and responded to a real human need (the education of the poor). The image shows someone who respected the future potential and inherent dignity of children during a time when they were often side-lined and abused.
On the other hand, the 2013 figure of Mary MacKillop made for the Australian Catholic University campus in Melbourne (below) shows Mary as a young teacher, book in hand.  This is an image with which students could very easily identify.
Significance
Laumen's accessible and monumental sculptures identify our heroes in sport, war, civic life or religion.  He responds to these 'icons', the people whose exemplary life and actions help us understand who we are, by are immortalising them in bronze.  They stand at the entrances to our churches and schools, our parks and sports stadiums to inspire us.  They might even stimulate us to reflect on the similarities that exist between the ritual codes of sport and religion in Australian culture.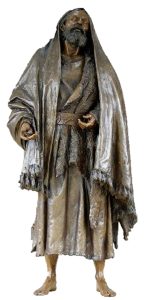 Note on the Sculptural Method
Laumen described his approach to working with bronze in relation to his sculptures.  Producing the statues for the Parade of Champions at the MCG, he said: my ongoing attraction is the figure in motion… The hardest part is capturing the identifiable presence of a person.  Laumen begins with charcoal drawings based on photographs or footage of the person represented.  The sculptor then moulds the clay onto a hand-made steel armature.  This work is based on nude models, then dressed models, which are reworked over several months.  Discussions and feedback between the artist and commissioning body are all part of the process.
The casting in bronze is undertaken in collaboration with the technicians and foundry workers, using the ancient 'lost-wax' method.  Today they use gas furnaces to melt the wax and electric welding machines to put the bronze pieces back together, but the basics have been the same for 2000 years.  Laumen describes the process: First, the clay model is divided into  six or eight pieces, replicated in wax moulds, remodelled to remove any imperfections, invested in ceramic shells and heated in a kiln.  The shells are then buried in sand, and liquid bronze – melted tin and copper – is poured, cooled and water blasted for hours to remove the ceramic shell.  Later the individual pieces are welded back together and the patina is applied.
Paul Taylor is music director at Bendigo Cathedral and is Executive Secretary for the Bishops Commission for Liturgy of the Australian Catholic Bishops Conference.
Photo credits: Paul Taylor (Ron Barassi, Shane Warne); Brendan Hayes (St Peter the Fisherman); Anita D'Souza (St Peter Apostle); Tobias Titz (St Francis Xavier); John Nowakowski (St Francis of Assisi, St Catherine of Siena, the young St Mary MacKillop); Tom Elich (St Mary MacKillop in Sydney).