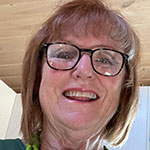 Melbourne artist Christine Sage's grandfather was, in her words, "a very good Catholic man". He was also a blacksmith and an inventor, and some of his equipment and tools are still used today.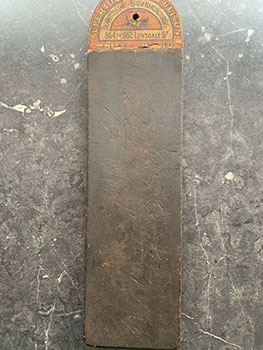 "He allowed us, his grandchildren, to help ourselves in his shed on Sundays," Sage says. "We hammered things together, played and discovered".
"I rescued his old razor strop from his shed after he died, and my youngest sister kept it under her house all these years. I am now using it again to sharpen my knives for carving wood and I feel very close to him and am grateful for that wonderous time as a child… ."
Now, after a 30-year-career in the arts, the director of Hullabaloo Studio facilitates workshops to allow people to express their bigger and deeper stories through art, using symbols and metaphor. "Symbols are a second language for Catholic people and this technique is probably my favourite art form of all," she says. "One can hear a pin drop as participants dive into the deep well of memory."
The work pictured here was a way for Sage to say goodbye to her father. "I have used universal and personal symbols including his handwriting. Handwriting affects us in ways not really spoken about in our times but there is a primary connection to the writer." "Making this work enabled me to shift emotions and celebrate the good man it is written about.  Art is a very powerful medium. It is a privilege and a gift we need to share. That is the basis of my philosophy."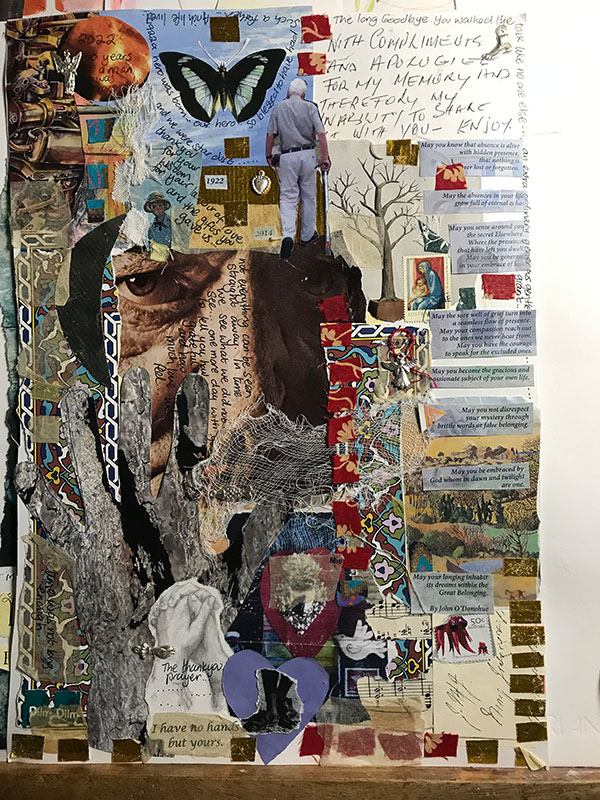 Early influences came from Sage's studies at Melbourne State College. Her mentors being William Ferguson and John Borrack.  Christine's work changed direction from the exterior landscape to the interior after an artist-in-residence position at the Arthur and Yvonne Boyd Education Centre at Bundanon on the Shoalhaven River in New South Wales. A travelling scholarship to Yemen furthered this direction and resulted in an exhibition of donated works which raised funds to put a roof on a school in Jibla, Saudi Arabia. Christine has travelled in Australia, painting the deserts of south and central Australia and has spent considerable time researching in Victoria's Mallee.
Sage's body of work has resulted in group and solo exhibitions throughout Victoria. She played a large role in the 'Mama Serpentine' project featured on the ABC Message Stick program, which offered engaging, topical and entertaining insights into contemporary Indigenous life.
In 2005, her first illustrated book Storm in a Teacup was published by St Luke's Innovative Resources (Bendigo) and she completed a Master of Visual Arts at Monash University. An art textbook for schools, Drawing Made Easy, was published in 2009 and is used in schools across Australia. She has been an artist-in-residence in kindergarten, primary and secondary schools, with a focus on creating sculptures and murals for small and large spaces.
Although Sage has worked in a variety of mediums including paint, clay, textile, mosaic, aluminium and corten steel, she has been drawn to bronze because of its highly tactile character and enduring quallity. Her skill with bronze has led to a series of major commissions to create iconic sculptures which capture the spirit and essence of the subjects. Statues and monuments are created using the age-old lost wax method. This method has become the hallmark of Sage Bronze Sculptures who work in tandem with Mal Woods Foundry. The technique combines the skills of both artist and artisan to produce work ranging in size from larger than life-size sculptures, to relief work and panels through to more refined pieces commissioned as remembrance works.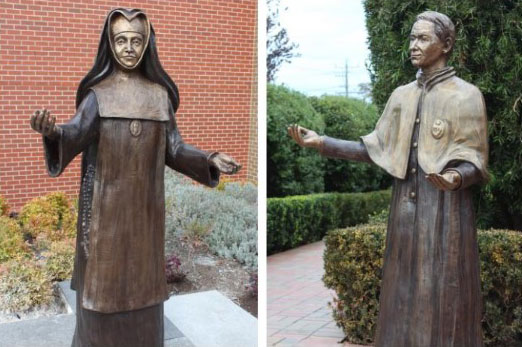 OLSH College Bentleigh commissioned bronze statues of Mother Marie Louise Hartzer FDNSC and Fr Jules Chevalier MSC in 2021. Their presence is a beautiful reminder of the vital role that Marie Louise and Jules played in establishing the Daughters of Our Lady of the Sacred Heart in 1874.  The Sisters established and opened OLSH College Bentleigh more than 80 years ago in response to the vision of 'mission without limits'.
Principal Ms Anne O'Loughlin said "these two people were God's gift to our world; they were the bearers of the OLSH Spirit we share.  The sculptures are a tribute to the amazing work of the OLSH Sisters in their mission to make the Sacred Heart of Jesus everywhere loved and adored.  They remind us to keep this same mission alive".
Father Jules Chevalier words, 'The Heart of Jesus is the Heart of God, the centre of divine love. It is through Jesus' Heart that the love of God pours himself out on the human race', cause us to a stop and contemplate the awesome love and passion Jules and  Marie Louise have for the love of God so that all people would know that God loves them.

Merici College Canberra celebrated its 60th anniversary with the creation of a mural by Christine and Hullabaloo Studio in conjunction with the College's art students. Principal. Loretta Wholley, said the mural was "amazing and captures the story of the founding 10 religious orders, our Catholic faith, Australia, our indigenous connections, all facets of education, co-curricular activities, sustainability and so much more. The mural depicts who we are, where we have come from and our vision for the future".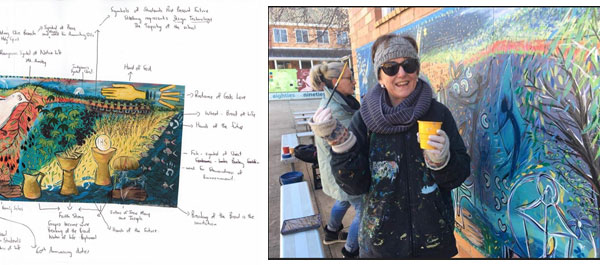 Sage worked with the students to honour 60 years of education at the College. Symbols in the mural include our Christian images of fish, wheat and the breaking of the bread as the invitation to the Supper of the Lord. The preliminary study shows some of the thoughts and ideas that students wanted to acknowledge as part of the rich story of Merici College.
The joy filled work reflects Sage's ability and energy to empower and direct students to create a major art work expressing their pride, vision and gratitude for the school. https://merici.news/news/new-mural-merici60-0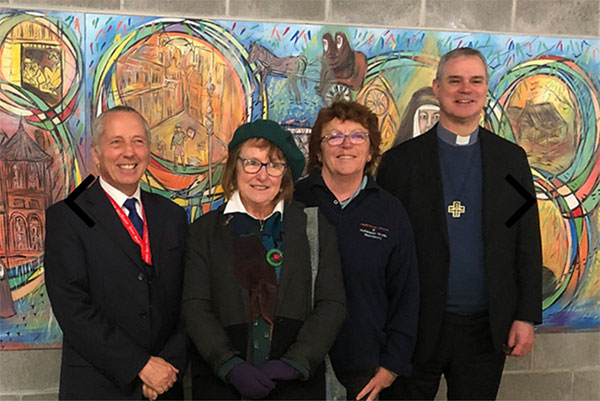 During the 120 year anniversary celebrations at the Mary MacKillop Heritage Centre, Sr. Geraldine Larkins and Archbishop Peter Comensoli unveiled and blessed Sage's newly designed and created mural. In attendance at the unveiling on 7 September 2022 were the Sisters of Saint Joseph, Archbishop Peter Comensoli, the artists, and students from Thomas Carr College. Mary MacKillop Heritage Centre director Ted Javernik reflected that  "The actual opening was so special as we were celebrating and recognising 120 years of the work of the Sisters on this site which started with giving women on the streets accommodation."
'Mary's Melbourne Mural' was designed and created by Hullabaloo Studios, and it depicts Mary MacKillop's life in Melbourne from the time she was born. It also recalls the ministry of the Sisters of St Joseph in Melbourne and Victoria. The mural will be used by the education staff to engage visiting students in Mary's story using activities and audio narrations for the stories. Stories range from Mary's birth and parents to stories about poor women with children who have found help from the Sisters, and letters sent from Mary MacKillop to her Sisters during her travels on horse and buggy.
With interconnecting, dynamic circles, bright colours and symbols, Sage has been able to engage the spirit and passion of Mary MacKillop and the Sisters of St Joseph by tracing Mary's story from her birth, to meeting Julian Tenneyson-Woods, ministering to the those in need and providing education to the disadvantaged with her many challenges along the way. Mary MacKillop lived her life in accordance with the ideals and values of Jesus. Not only did she support those in need but displayed wisdom and humility when dealing with people.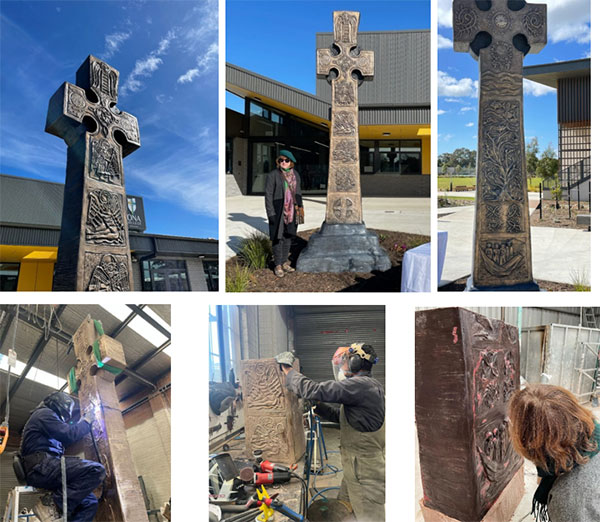 Sage's bronze Iona Cross was installed at the new Iona College Geelong Victoria in 2020.  The College welcomed 150 foundation (Year 7) students and 23 staff and is being built in three stages over six years at a cost of $65 million. It plans for a secondary school population upwards of 1500 students over ten years.
The original Iona Celtic Cross was dedicated to John the Evangelist and stood at Scotland's Isle of Iona where St Columba and 12 companions founded a monastery in AC 563. The Celtic Cross is a powerful reminder of the story and the foundations of our faith. Symbols on this Cross include the Holy Spirit, the Tree of life, the four evangelists, St Columba and companions sailing from Ireland to Scotland – and the Gospel travelling to the ends of the earth.
As at the Iona Abby in Scotland, the Celtic Cross, is in the forecourt of the College. This beautiful bronze Cross is a place of prayer and pilgrimage on the journey of education and acquiring knowledge.  The imposing Cross embodies the College's vision and purpose to be a faith filled Catholic learning community of hope, joy and wonder where all are welcome and inspired to grow to their full potential.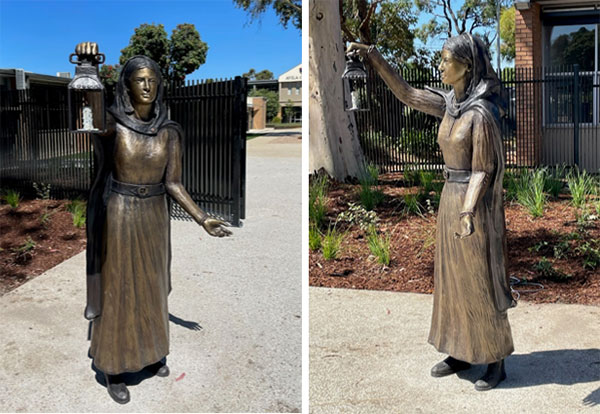 Sage's bronze statue of Nano Nagle, is installed at Avila College, a Catholic day school for girls in the Melbourne suburb of Mount Waverley. The school was established in 1965 by the Presentation Sisters who accepted an invitation from parishes in the Waverley area to establish a Catholic girls' college. Venerable Honora Nagle (c. 1718– 26 April 1784), known as Nano Nagle, was a pioneer of Catholic education in Ireland. She founded the Sisters of the Presentation of the Blessed Virgin Mary commonly known as the Presentation Sisters, now a worldwide Catholic institute of women religious.
In 2000, Nano Nagle was voted Irish Woman of the Millennium, "in recognition of her importance as a pioneer of female education in Ireland". Nano Nagle is known as the "Lady of the Lantern". She visited and sought out the poor, the sick and the marginalised as she walked through the night streets of Cork city, Ireland. Risking her own life, she transformed the lives of others by offering hope, love and compassion. At that time under the Penal Laws, operating a Catholic school could result in three months imprisonment, so Nano had to work in secret. The need for education which Nano provided was such that she was operating seven schools across the city of Cork, teaching both boys and girls. The Presentation Sisters came to Australia to continue Nano's work of education.
An artwork currently under construction is a sculpture of St Brigid of Kildare, Ireland. It is laden with symbols representing the legends and myths surrounding the Irish saint. In the years between 451 and 524CE this young Irish woman lived a life that had so much impact that she continues to inspire commitment and connection to our Catholic faith, even 1500 years later. In Sage's statue of St Brigid of Ireland, her cloak illustrates her story.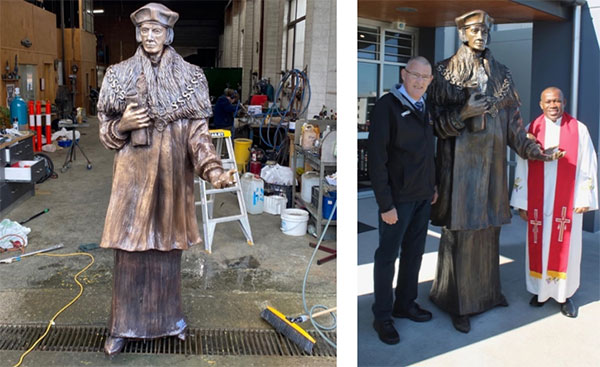 Christine Sage reflects:
"I think mastery is a path.
The continued and repetitive work we do
leads us by our mistakes and errors to a place of knowledge.
But never enough!
Always see the imperfections,
but that keeps it real."
The following is the link to many other works by Christine Sage and Mal Woods Foundry.
Hullabaloo Studio – https://www.hullabaloostudio.com.au/
 Sue Orchison – member National Liturgical architecture and Art Council (NLAAC)