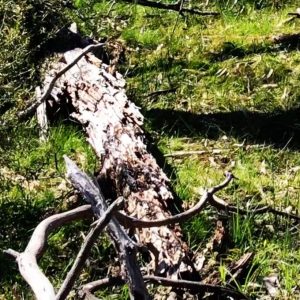 Dr Rebekah Pryor is a visual artist and writer living and working on Boonwurrung/Bunurong Country southeast of Melbourne, Australia.  She was a finalist in the 2018 Blake Prize and, from 2015-2018, the curator of Lamppost Gallery, a space dedicated to exploring contemporary art and Christian spirituality.  She is an honorary postdoctoral associate at Pilgrim Theological College, University of Divinity.  In 2021 she coedited Contemporary Feminist Theologies: Power, Authority, Love (Routledge) and her forthcoming book Motherly: Reimagining the Maternal Body in Feminist Theology and Contemporary Art is due for publication in early 2022.
______________
My 2020 work Untitled (Holy Mysteries) combines digital video with a box made of Eucalyptus obliqua (Messmate Stringbark).  This is a widespread Australian species and reportedly the first to be described and classified as a Eucalypt (by French botanist Charles L'Héritier in 1788).  When the box is opened, the vision and sound of a wetland become apparent.  Captured in Gariwerd, Victoria, the chorus of frogs and birds resonate and dampen as the box lid is opened and closed. (www.rebekahpryor.com/untitledholymysteries)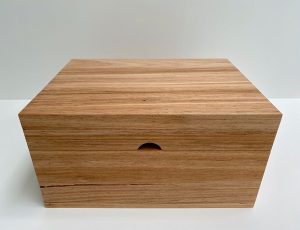 The work soothes, like a music box.  It also unsettles.  In what might be understood as a stifling gesture – even if adoring and preserving – this wild, living landscape is here codified, flattened out and contained… on a screen, in a box.  Mystery is redacted and reduced.  The sacred song and the equally sacred ecosystem from which it was extracted exist only as lifeless imitations.
Whether in word or art, language always leads to a kind of containment, a kind of closure.  We know well about closure in these pandemic times.  Some of our most sacred places have suffered from it.
So, what do we do when the church no longer holds us?
We certainly do not despair.  Divine encounter has never been confined to ecclesial architecture or its virtual Zoom room equivalent.  Whether in supermarket aisles, household kitchens, remote snowy tundras, or towering Eucalypt forests, God is and has always been there.  In such places, in moments of meeting and being met, 'sacred' and 'secular' distinctions fall away.  Every place and thing is found to be entangled in what theologian Catherine Keller describes as the godness 'in' whom unfolds the universe (Face of the Deep, 2003, p. 219).  To be clear, this divine entanglement does not equal or necessitate conflation or homogenisation.  On the contrary, it rather highlights our difference, our uniqueness and – thinking with Pope Francis' hopeful integral ecology –  our capacity for relational life.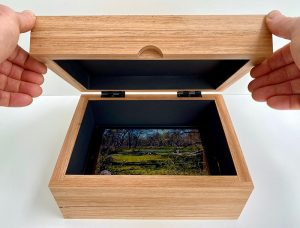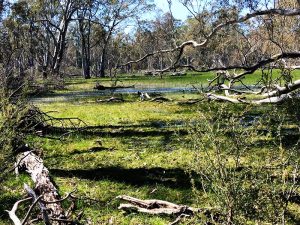 L: Untitled (Holy Mysteries) (open), showing screen in base of box.  R: Untitled (Holy Mysteries) (video still)
Untitled (Holy Mysteries) is designed to be fixed to a gallery plinth like a tabernacle.  The box of Holy Mysteries invites us to wonder about divine mystery and containment.  It also challenges us to consider our part in the life of complex, entangled ecosystems.  Beyond representing singular iconic figures or moments in history, it points us to the amorous return of a divinity that had never left (Keller, Intercarnations, 2017, p. 26).  It reminds us that outside the containment lines – architectural, ecclesial, theological or otherwise – there are divine encounters still to be had, holy mysteries yet to ponder.  Given our present challenges, we do well to remain open to such possibilities.