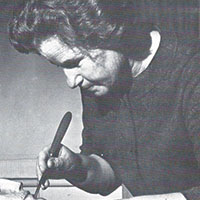 In the aftermath of World War II thousands of displaced persons from Europe sought a new home in Australia. They came bringing a diverse array of talents to the arts thus contributing to a new and unique artistic sensibility in this country. In time, a flourishing of art, literature, drama and music emerged. One of these immigrant artists was the young sculptor Leopoldine Mimovich.
Leopoldine "Poldi" Mimovich was born the second of five children on 25 June, 1920, in Neumarkt in the Italian Tyrol. Her father, Franz Deflorian, was an interior decorator. Two years after her birth, the family moved to the small village of St Johann in Austria.
At an early age Poldi's talents were recognised by the local school master, Ernst Buhlmann, who encour- aged her to consider art school. The family's financial situation prevented this, so aged 14, Poldi left school and became an apprentice to her father who taught her gilding, sign-writing and stencil work. She met her first husband, Othmar Vockner, a professional soldier, when she was 16. At the outbreak of the war he was sent to the front in Poland, Greece and finally Russia where he died in February of 1941.
Poldi continued to work with her father until 1940 when she moved to Vienna. There she enrolled at art school under the well known Austrian Professor Gusty Mundt-Amman who taught her the technical aspects of clay modelling and drawing. In 1943 Mundt-Amman arranged a place for Poldi at the college of Religious Art in Hallstadt studying under Professor Rothboeck. In 1944 the school was closed by the Nazis and Poldi was conscripted to work for the German war effort as an accountant in a munitions factory. Here Poldi met the noted Viennese sculptor Professor Herman Musger, also assigned to the factory, whose influence and night-time drawing lessons proved invaluable to the young artist. After the war she resumed her studies in Hallstadt, graduating in 1947 as a qualified teacher with a Diploma of Art. In 1948 she married Ljubisa Mimovich, a stateless Serbian officer who had been a prisoner of the Gestapo, and in the following year they set sail for Australia as displaced persons on the MV Skaugum.
They started a new life at Bonegilla and Royal Park Migrant Hostels before finding independent accommodation in Yarraville and later at 33 Miller Road, Kew, where Poldi established her studio.
Like many European immigrants in those post-war years the Mimovichs were given identity cards and were required to work for two years in menial employment regardless of their qualifications. Poldi was assigned to the Pelaco shirt factory where her sympathetic employer, on seeing her drawings, gave her early release to pursue her sculpting career. For a time she worked as a carver for Myer, and privately on commissions that slowly came her way. Although Poldi experienced serious set-backs through illness, she managed to gain recognition in carving, moulding and painting.
Poldi Mimovich's work is found in parks, homes, churches, schools and convents throughout Australia Her crucifixes grace the walls of the Mawson Inter-Denominational chapel in the Antarctic and the United Nations building in New York. Other works are in England, the United States, Germany, Japan, Korea, Honolulu and New Guinea.
Leopoldine Mimovich has established her place as an accomplished sculptor whose work reflected her Austrian origins and Catholic background. She built on an early twentieth century European tradition and over time developed a more stylised and modern body of work. She has received numerous awards, including the Order of Australia Medal for services to sculpture and the certificate of Merit for Distinguished Achievement from the World Who's Who.
The young immigrant artist, whose limited luggage contained the tools of her trade rather than cutlery and other household goods, expanded our cultural and religious experience. Her small crucifixes, madonnas and images of the saints have found their way into our homes. One woman recounted that she grew up with a small bronze Mimovich madonna on the windowsill. Wedding, baptismal and first
communion gifts were available at Poldi's Miller Road studio. This meant there was more on offer than mass-produced plaster religious images. Bronzes and carvings in Red Silkwood, Huon Pine, and Silver Quondong found their place among us in our homes, churches and schools. Leopoldine Mimovich played a large part in helping Australian Christians to transition from Pellegrini plaster to commissioned religious images.
Poldi died in her daughter Gabrielle's arms on Christmas morning, 2019.

ACKNOWLEDGEMENTS
Below is a small sample of Leopoldine Mimovich's large body of work.
Permission to copy images has been granted by Spectrum Publications Pty Ltd and the artist's daughter Gabrielle Mimovich.
JILL O'BRIEN sgs