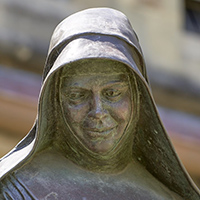 The bronze sculptures of Judith Rolevink at St Francis Xavier Cathedral, Adelaide.
The first sculpture dates from 2009 and stands beside the cathedral in Mary MacKillop Plaza.  It is a narrative work that shows Mary holding hands with two children as they walk together.  The trio steps forward joyfully.
The second sculpture was made in 2020 to mark the 10th anniversary of her canonisation.  It is located inside the cathedral and is intended as a devotional shrine.  It is a focus for prayer and intercession addressed to Australia's first saint.
Australia's first canonised saint, St Mary of the Cross MacKillop, was born on 15 January 1842 in Fitzroy, VIC, just around the corner from the current St Vincent's Private Hospital.  A child of Scottish parents, Mary collaborated in later years with South Australian priest, Fr Julian Tenison Woods (1832-1889), in founding the Sisters of St Joseph of the Sacred Heart (or the Josephites).  The sisters established schools and institutions throughout Australia, and some overseas, for the education of children, particularly those from rural and impoverished communities.  Mary often urged her sisters and other collaborators never to see anyone in need without doing something to help them.  Following her death on 8 August 1909, Mary was increasingly honoured locally as a person of deep faith in God, and generous love for those within her care.
On 22 March 2009, one hundred years after her death, a statue of Mary in bronze by local South Australian artist Judith Rolevink was unveiled in the Plaza dedicated to her adjacent St Francis Xavier's Cathedral in Adelaide.  The statue of the saint, flanked by two young children, immediately situates the life of St Mary of the Cross in a vivid context of care and concern for the young, including those from indigenous communities.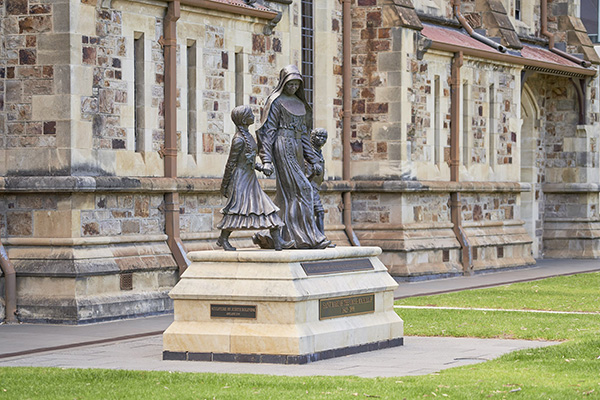 Eventually, Mary's heroic sanctity was recognised universally, and she was officially canonised a Saint by Pope Benedict XVI on 17 October 2010.  The solemnity of her memorial is celebrated in Australia on 8 August each year.  A decade later in 2020, a new statue in bronze also by Judith Rolevink was unveiled.  By contrast, this artwork is situated inside St Francis Xavier Cathedral, to provide a focus for prayerful devotion by the faithful.
The contrast between the two works is worth noting.  In the first work, Mary is portrayed as part of a narrative, namely the leadership and education of children.  The viewer is reminded of Mary's prophetic, apostolic works in support of a vulnerable cohort within society who have often been the subject of abuse.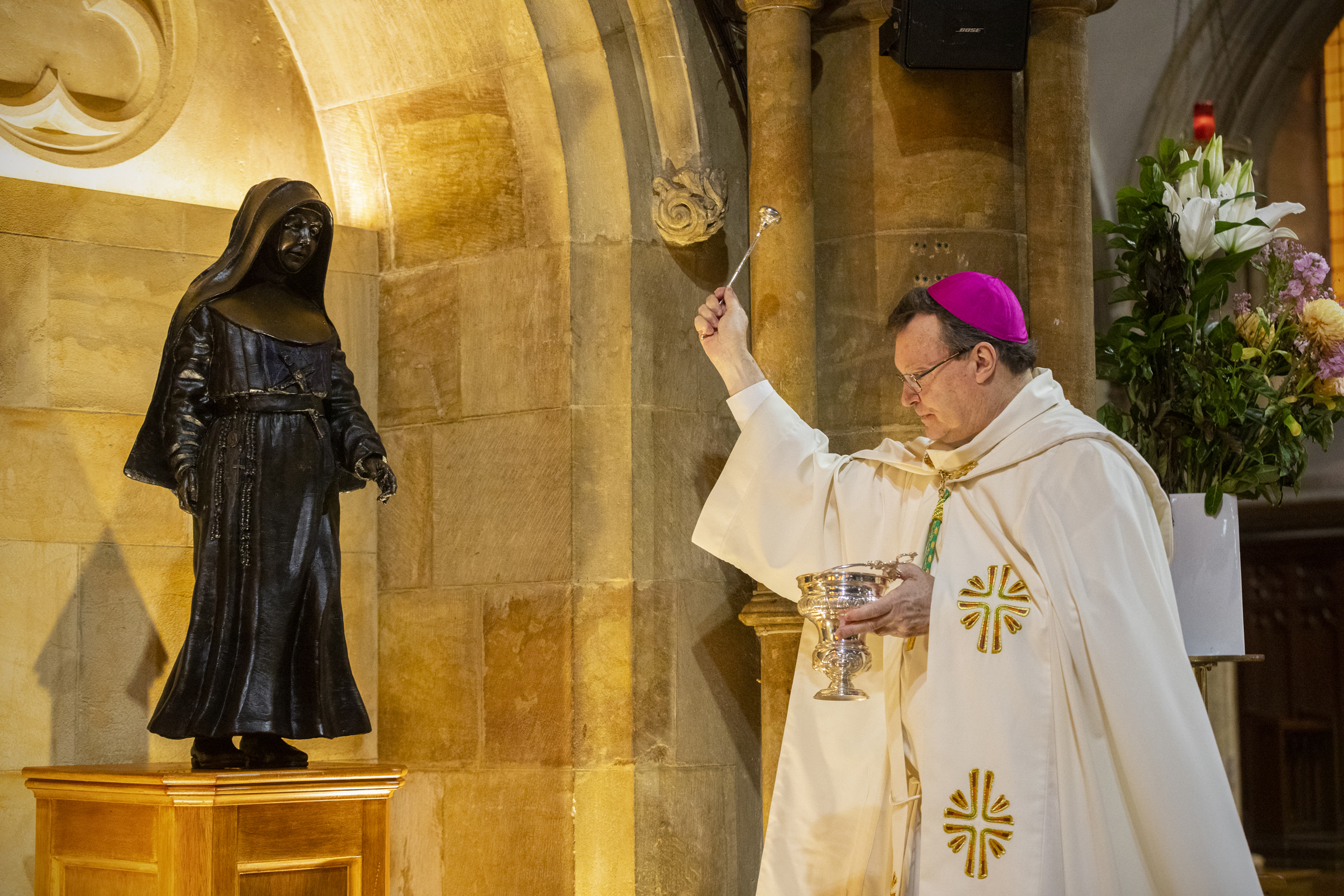 In the devotional sculpture, Mary is depicted – as many of the saints are – in prayerful communion within the Church but still accessible and reaching out to those in need now, through her intercession with Christ. These contrasting artistic approaches help highlight the historic and contemporary roles of saints in the life of the Church and broader community.  Interestingly, the second seems to portray Mary as an older woman.  Taken together, Judith Rolevink has presented us with two perspectives on the saint, embracing the beginning of her ministry and the end.
Joseph Ratzinger in The Feast of Faith: Approaches to a Theology of the Liturgy (1986) writes that two potent sources of the Church's evangelisation are her saints and her art.  These two converge in Rolevink's bronzes, living and expressive symbols of beauty that lead others to God.  The example of Mary MacKillop which Judith Rolevink portrays suggests that the Church's saints are people of strong and committed faith, whose Christian witness and dedication to Gospel works radiate God's light and life.  At the same time, the saints' recognition of God's presence in their life and those in need is a source of inspiration for people of all ages, particularly young children.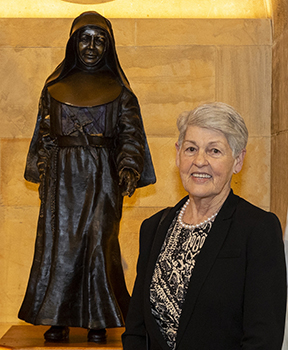 The Artist: Judith Rolevink
Judith is based in South Australia and is accomplished as both a sculptor and oil painter.  Judith has been recognised for her ability to communicate the essence of her subject to the viewer.  In addition to her sculptures of St Mary at Adelaide's cathedral, Judith has created another sculpture of Mary MacKillop (2012) for the Memorial Chapel at Mary MacKillop Place, North Sydney.  She has also produced a bronze of the well-known South Australian cricketer, George Giffen (2014), a large (2.25 metre high) sculpture at the Adelaide Oval.
Further exploration by Judith Rolevink of the artistic process of working in bronze, and descriptions of other artworks by her, can be found at her website: About Me – Judith Rolevink Sculpture
By Dr Paul Taylor, Executive Secretary, Bishops Commission for Liturgy.
Australian Catholic Bishops Conference.
Images:
Photos by Sam Roberts, cityofadelaide.com.au
Blessing of new Mary MacKillop statue by Archbishop Pat O'Regan, The Southern Cross (2020)
Judith Rolevink pictured with statue (2020) Bing images