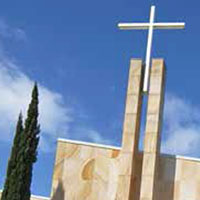 The Art and Architecture Committee of Sacred Heart Parish, Sandringham.
Sandringham parish is in the Archdiocese of Melbourne.  Rev Dr Frank O'Loughlin was parish priest for over two decades (1996-2020).  During that time the fabric of the 1974 church building has been transformed and the church has been enriched with beautiful new art, while carefully preserving the stained glass heritage from the first church opened in 1906.
Fr Frank worked collaboratively with other interested members of the parish.  They formed a parish Art and Architecture Committee.  Fr Frank was their inspiration and guide.  The meetings of the group included some formal formation but by and large the group learned 'on the job'.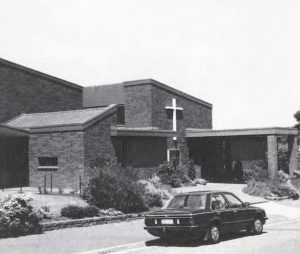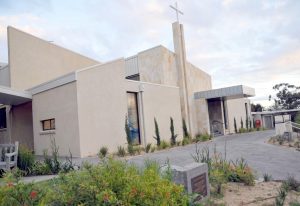 Fr Frank describes what happened.  There were only two or three irregular meetings annually but when there were projects afoot such as the new doors and windows of the church, the new crucifix and the icon of St Mary Mackillop, there would be regular meetings with considerable work to be done in between meetings.
The group included artists from the parish, a project manager, those who kept an eye on maintenance along with interested parishioners and the parish priest.  When there were major projects afoot, the commissioned artists would also be part of the group.  At times other experts were invited along to give their assistance.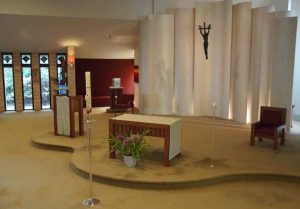 The interior of the church was redesigned to make proper liturgical provision for altar, ambo and assembly, and also the tabernacle and font.  When time came for maintenance of the roof and exterior of the church, a new sandstone-clad spire and entrance were built.
The church became more inviting and hospitable with landscaping and a more accessible entry; the front doors are a wonderful work of glass art evoking the Eucharist and our communion in Christ.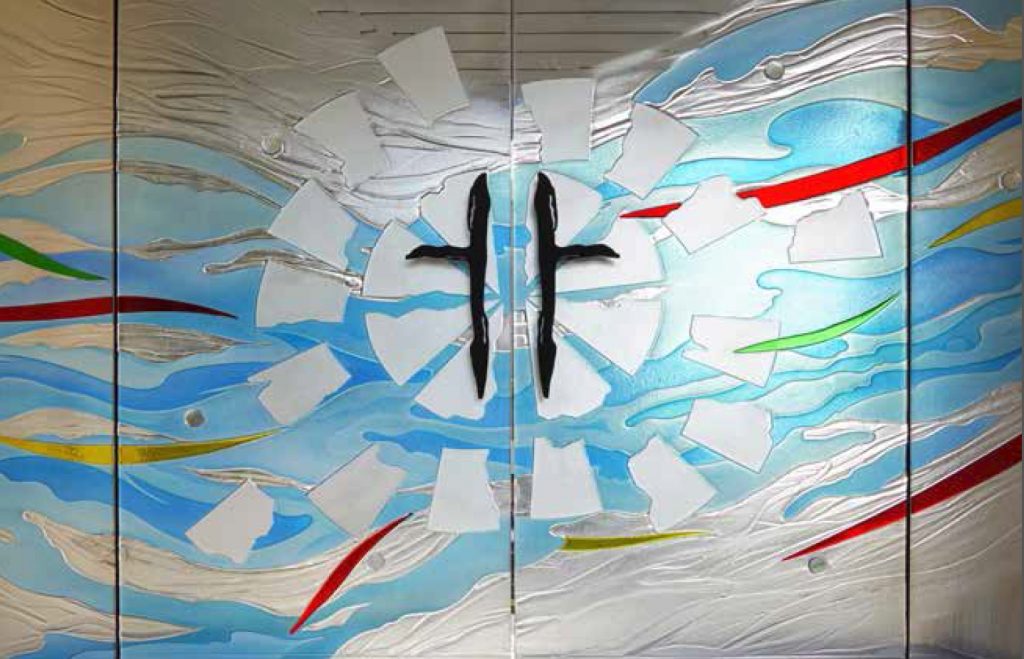 In 2006, an almost life-sized bronze crucifix was installed.  It is the work of Pauline Clayton and captures the whole paschal mystery of Jesus' death and resurrection (See the article on this site about her sculpture at St Francis Church, Melbourne).  A rich red triptych by local artist Gabrielle Boston Smith highlights the tabernacle and uses colour to speak of God's love.  Seasonal artwork for Advent-Christmas and Easter-Pentecost as well as the Tree of Life triptych were produced from within the parish under the guidance of the Art and Architecture Committee.  The most recent addition is a painting of St Mary MacKillop commissioned from Margaret Broadbent in 2018.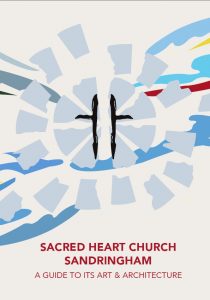 What a wonderful model for parish renewal through art and architecture.  Quietly and creatively over two decades, the collaborative work to renew the liturgical space at Sandringham has produced remarkable fruit.
Now the committee has compiled a booklet documenting the various projects.  It is accessible as an electronic PDF download from the parish website.